Recently, I spent a marvelous Sunday morning with Victoria Marshman and Celeste and Don Miller at Appalachian Great Pyrenees Rescue Kennel in Varina, Virginia. Nestled off the beaten path, this sanctuary is a haven for rescued dogs, where they are taken care of before being adopted to new homes. These great big balls of fluff, with happy personalities are mood-elevators, as they bound about, snuffling, walking, barking and playing.  We walked Michael, Bonnie, Sarah and Milo, Judge and Jury and I met Happy, Bones, Murphy, Gracie and four fabulous 10 week old furballs who wiggled their way into my heart.  Going to the dogs was the best time I've had in a long time!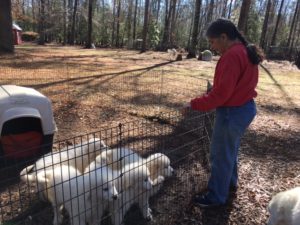 It was interesting to learn a little about the history of the breed.  I had always thought of them as being large, affable companion dogs, but they were bred to be protectors.  The Great Pyrenees Club of America has this to say about their history,
"…The breed likely evolved from a group of principally white mountain flock guard dogs that originated ten or eleven thousand years ago in Asia Minor. It is very plausible that these large white dogs arrived in the Pyrenees Mountains with their shepherds and domestic sheep about 3000 BC. There they encountered the indigenous people of the area, one of which were the Basques, descendants of Cro-Magnon Man. In the isolation of the Pyrenees Mountains over these millenniums, the breed developed the characteristics that make it unique to the group of flock guardian dogs in general and the primarily white members of that group. ….
A Peasant's Dog
The Great Pyrenees is a mountain shepherd's dog. Over this long period of time the Great Pyrenees developed a special relationship with the shepherd, its family, and the flock.
In 1407, French writings tell of the usefulness of these 'Great Dogs of the Mountains' as guardians of the Chateau of Lourdes. In 1675, they were adopted as the Royal Dog of France by the Dauphin in the court of King Louis XIV, and subsequently became much sought after by nobility. …."
https://gpcaonline.org/history.htm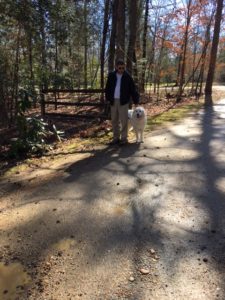 Passion for the Pooches!
Established in 2006 the Appalachian Great Pyrenees Rescue is a 501 (c)(3) charitable organization that is affiliated with the Great Pyrenees Club of America. Its' mission states that it "rescues, rehomes and places Great Pyrenees dogs within Virginia, Maryland, D.C. and parts of West Virginia." As a "rescue" chapter, they are focused on taking in and rehabbing the animals, as well as placing them in new homes.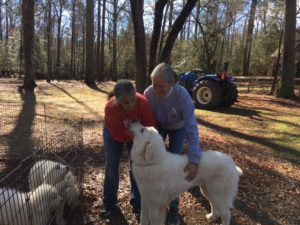 Passion for the Mission is evident in every aspect of the kennel and is a byword among the all-volunteer staff. When the dogs come in their histories are taken (as much as is possible), they are medically evaluated and receive appropriate treatment. All rescue dogs are spayed and neutered and they receive Shots (Rabies, Distemper/parvo, Bordatella, etc.) and are microchipped before leaving for their forever home. All of them are dewormed, groomed, checked for heartworms and, if necessary, medicated for them. Most of all, they get the love and attention that they need.
Victoria Marshman, Executive Director, lives close to the Kennel and is with the Pyrenees on a daily basis.  She always loved dogs and, thus, came to the organization a number of years ago as an interested party and, over time, became entranced with the wonderful-ness of the dogs. Since then the Pyrs have become like additional members of her own family.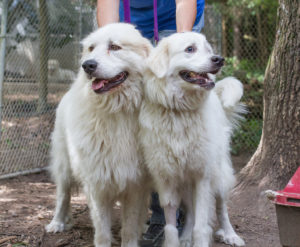 According to Celeste Miller, AGPR Adoption Coordinator and Newsletter Editor, they assist roughly 100 pyrenees each year.  Getting to know their dogs well and developing an understanding of each animal's personality is paramount in making sure that they are "well-placed."  Not surprisingly, the dogs are adopted out at a pretty steady rate. AGPR's high standards insures that every pet will be a perfect fit for its' new home.  They are conscientious and attentive to detail when meeting potential owners and discussing each dog.  This makes for happy and secure futures for the adoptees.
Adoption Requirements include:
*having yards that are securely fenced-in
*current household pets are spayed/neutered and up to date on shots
*the ability to provide proper housing/shelter for the dogs (typically indoors)
*providing regular veterinary care
*understanding that the dog will live in the potential owner's home and not be a gift for someone else
Veterinary Help is Key
Efforts on the part of the local Veterinary Community undergirds the work of the AGPR volunteers.  The animals often need surgery (major and minor) and basic services like Spay and Neuter.  They would be hard-pressed to keep the dogs healthy without the help of local Veterinarians like the Varina Veterinary Clinic, Dr. Erin Barron of Barron Surgery, and the New Market Veterinary Clinic.
Keeping the FUN in FundRaising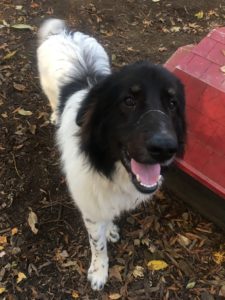 How Do they Do it?  Keeping a roof over the animals' heads, maintaining the Kennels, feeding the pooches and meeting the medical and daily needs of the dogs is a tall order.
I was so impressed with the approach to raising money and awareness, obviously there is some funding that comes through small grants and there is lots of in-kind giving from previous adopters and supporters, but the fundraisers emphasize the Pyrenees' warmth and joyfulness:
A Photo Calendar Contest that allows entrants to pay a small price for submitting photos of their fabulous furry friends garners lots of attention and donations.
The Great Pyr Picnic in the Fall sounds really fun! Held at the Kennels, AGPR charges a small amount per car so that anyone can come out and dine with the dogs!
Crowd-funding to assist with medical emergencies is another way that this organization spreads the word and makes much-needed money.
Any and All Volunteer Efforts are Appreciated!
As an all-volunteer organization, AGPR works very hard, but, also understands the demands that we all have.  Celeste told me that they have several work-groups come out from businesses to help at the Kennels. But they also welcome individuals to come out, walk and brush the dogs. This is a great way to satisfy your "big dog fix."  Celeste told me that she had become involved a little while after they had lost their Samoyed.
"I missed the white fluff! We weren't ready for another dog at the time, so when my husband mentioned going to the Kennel, I went along to 'chaperone' him to make sure he didn't adopt one. After I saw these dogs, I was hooked.  We now have two!"
Here's a link to their website, so that you check out these amazing animals and learn more about the breed:   www.apgrescue.org
I must admit, I'm going to need to go and visit the kennel from time to time, because they are just soooo CUTE and sweet!